My sweet friend Jennifer started a new serious on her blog called What's For Dinner Thursday (be sure to check it out!!!) where she shares what they had for dinner.  I have done various posts like that here in the past but I haven't been too good about sticking with them.  I am really going to try hard to stick with it this time.  Today I am announcing my "What's For Dinner Review" which will be posted every Friday.  I will highlight the hits and maybe a few misses from our dinners that week.  I am excited to share a few of the new things that we tried this week!  We had a week full of new stuff so there's quite a few to share today.  Some weeks won't have this many. On to the food…
First up… We made this Crockpot Pesto Ravioli this week.  It was a hit with everyone, even our kid who is really picky when it comes to pasta!  I love how yummy and easy it was.  Perfect for those days when we are super busy or when I am just too tired to put a whole lot of energy into dinner.  Definitely put it into our regular rotation options.
Image Source – Mostly Homemade Mom
This one we tried a couple weeks ago, but it was really good so I want to make sure I mention it before I forget.  We tried these Wingers Sticky Fingers.  I have never been to a Wingers restaurant before, but they sure sounded good.  If you like buffalo sauce, you definitely need to give these a try!!  I have one kid who didn't care for them (he doesn't like buffalo sauce) but the rest of thought they were great!  We will definitely be making them again when the oldest isn't home for dinner.   Oh, and I made the sauce but cheated and used frozen chicken tenders.  I hate making homemade breaded chicken.
Image Source – Chef in Training
Speaking of homemade breaded chicken, I did make some this week with the help of my sweet husband.  We tag teamed it to make it go faster and a little easier but it was still WORK.  We had soooo many of those little chicken bites with a family of five to feed.  Anyway… we made this Panda Express Sweet Firecracker Chicken Copycat.  Man it was really good!  I am not usually a huge asian food fan, but I LOVED it.  This also comes from one of my favorite food blogs. Everything I have tried from her blog turns out awesome.  And her photos make my mouth water every time.  Another couple favorites from her blog are these Wonton Mozzarella Sticks and the Easy Parmesan Garlic Knots.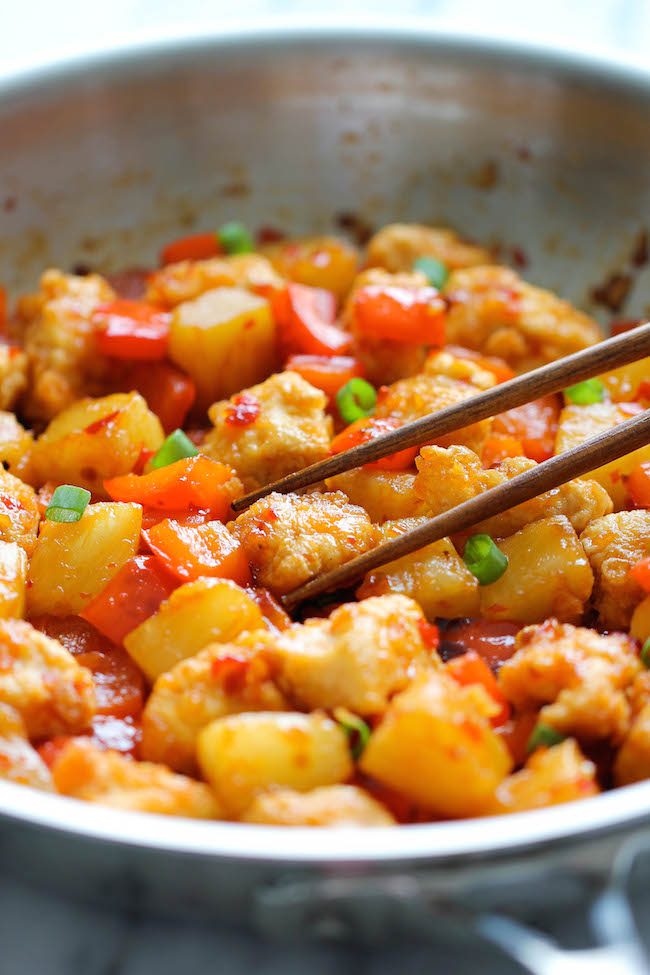 Image Source here.
We made this Grilled Asian Chicken.  We were kind of in a rush that night so I didn't make kabobs.  We just marinated the chicken breasts all day and grilled those.  I did throw some cut up vegetables on the grill with them.  Anyway, it was DELICIOUS!  We all definitely voted to make it again.  I think next time I will make it when I have time to do the kabobs. I mean kabobs are just happy food.  😉
Image source – The Recipe Critic
I made my Chinese Fried Rice (minus the chicken) to go along with the Grilled Asian Chicken.  We ate it as a side rather than adding the chicken to it.  It is ALWAYS a HUGE hit with my family.  We can go through some serious fried rice around here.  That's good because my recipe makes a lot.  My boys like there to be left overs.  One of them loves it for breakfast!
And now, here is my pinterest fail of the week…
I tried these Seasoned Potato Wedges.  While the taste was ok, they didn't look anything like the picture on Pinterest.  I was excited to try them because they looked just like my favorite potato wedges from KFC.  Oh well.  Like I said, they tasted ok but we voted not to try them again.